Sometimes I get really stir crazy being a semi- stay at home mommy... I get really sick of sitting at home doing the same things every day. Now, I'm not saying that every day is the same- Bennett serves up something different every five minutes! But sometimes it is nice to do something out of the ordinary just because you can.
(and I'll admit- the shift in my adulthood 'freedom' now that I have a baby is still something I struggle with, so a dose of spontaneity is always good!)
This is a two-fer since I have TWO fun field trips to share today =) I know you're really excited!
On Wednesday Ty had to work late (not fun) so me and Bennett headed downtown and visited the
Phoenix Art Museum
! I had never been, but I really enjoyed the art museum in Chicago when Ty and I went a few summers ago. It was one of my favorite parts of our trip! Too bad it was one of the most BORING parts for Ty! Hopefully Bennett will enjoy the art museum enough to go with me on Free Wednesdays as he gets older :) I didn't take any pictures with my real camera, just my phone.
Exploring the statues and grass outside... not looking very happy...
Longing to do more exploring in the grass outside...
One of the five minutes that Bennett actually spent sitting in his stroller- he insisted on being carried the rest of the time. At least he helped me push his stroller =) and PS- I love how he is always pulling himself forward with the cup holders! SO CUTE!
The museum was featuring an Arizona artist named Philip C. Curtis and I loved his paintings!! A lot of them had bright colors and a lot of contrast so Bennett was enjoying them too :) I am having a hard time finding pictures of my favorites online, but here are a few of his pieces.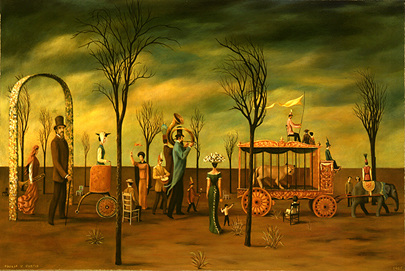 Outing #2
Today, Ty had a day off! Yay! He hung out with Bennett during preschool this morning and as soon as it was over he was expecting a nice relaxing afternoon lounging on the couch. Oh how wrong he was.
Me: Okay, it's time for our picnic at the park! Load up!
Ty: Oh. Park? Have we been planning this?
Me: No. I just decided. Are you ready to go?
Surprisingly, this was Bennett's first trip to the park! Does that make me a bad mother? Look how much fun he is having!
The fun was short lived. This goose is apparently TERRIFYING! Poor Bennett would not stop crying and trying to get away. Click the picture to see just how sad he looks. It's pitiful! Poor kid.
He wouldn't even LOOK at the geese after we stood up. I think we've scarred him for life.
Can we go home now???